We have 2 new watches from Mr Jones to share with you today and we don't think you will be disappointed. The Sun and Moon watch uses a rotating image of a sun in place of the traditional hour hand. At 6am the sun 'rises' on the left of the dial. The sun slowly climbs in the sky until it reaches the apex of the crescent midday. The sun gradually descends until it reaches the right hand marker at 6pm. After 6pm the Sun 'sets' and disappears from view, meanwhile the Moon 'rises' on the left. The position of the Moon in the sky therefore shows the hours from 6pm until 6am. The one constant is the minute hand found in the centre of the dial.
This time lapse video gives a good demonstration of the watch in action: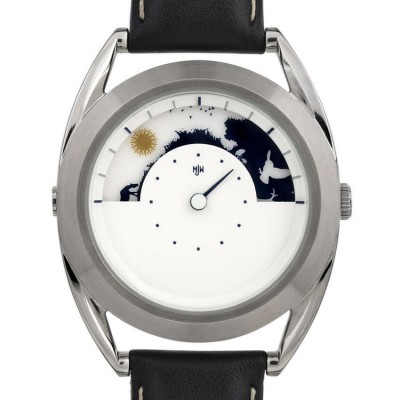 Next up is the Time Traveller watch. This is the perfect timepiece for all the jet setters out there. At a click glance you can determine the time in multiple countries by simply using the landmarks as the hour hand. For example if you're in London then you use Big Ben as your hour hand; in Paris you look to the Eiffel Tower or in New York you use the Statue of Liberty. A pigeon, the universal city dweller marks the minutes.